The Jubilee Year 2021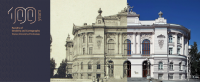 The 100th anniversary of the Faculty of Geodesy and Cartography
The Faculty of Geodesy and Cartography of Warsaw University of Technology is the oldest and most renowned Polish academic and research institution in the field of geodesy. It was established 100 years ago by the Regulation of the Minister of Religious Denominations and Public Education of 30 June 1921 under the name of the Faculty of Surveying. Currently, the Faculty has 124 employees, 1,200 students, 20 doctoral students, 200 students in postgraduate courses, but also more than 15,000 of wonderful graduates. Together, we create a large community of active and creative people present in all areas of economy, business, administration, science and social activism. Professionals scattered around the world, we hold in common a community of time and place and the legacy of many generations of outstanding professors.
The Jubilee Year 2021 will be entirely dedicated to celebrating this unique anniversary. We want to spend it with our friends and supporters, students and graduates, scientific, social and business partners. The celebrations will be accompanied by numerous academic, cultural and social events, and the main ceremony will take place on 24-25 June 2021. I cordially invite you to take an active part in the organization of events related to the 100th anniversary of our Faculty and contribute to the events. I am convinced that this centenary celebration will bring us much joy and satisfaction and will provide many opportunities to exchange experience and promote innovative solutions and modern systems.
His Magnificence Rector of the Warsaw University of Technology, the President of the Head Office of Geodesy and Cartography, the Marshal of the Mazovian Voivodeship and the Mayor of the City of Warsaw have extended their honorary patronages over the celebration.
Yours sincerely,
Assoc. Prof. Janusz Walo, DSc, PhD
Dean